This week is Thanksgiving in the U.S. To celebrate, we want to share one of our favorite Making Change broadcasts.
What would it look like if gratitude and generosity were the touchstones at the root of everything we did – business, government, community benefit work?
This conversation with Christy McGill and Rhonda Lorch focused on just such questions of gratitude and generosity, not just one day a year, but as the root of their everyday work.
What does it look like when business (Rhonda) is built around gratitude and generosity?
What does it look like when community work (Christy) is built around gratitude and generosity?
How does this approach align with what you already do?
When this conversation originally aired 2 years ago, one listener linked us to an interview with another business person whose work is built on generosity and gratitude – Patagonia CEO Rose Marcario. You can find that inspiring interview here.
If you're curious about the role of gratitude and generosity in both the business and community development worlds, we know you will enjoy this conversation. As you listen, please jot down your thoughts, and share them in the comments here. What do you do to incorporate gratitude and generosity into your own day-to-day work?
Below the video, you'll find a link to download the audio as an MP3, to listen as a podcast. You'll also find Christy's and Rhonda's bios. We hope this conversation inspires you as much as it inspires us!
Listen to the Audio Only
Bios
Christy McGill is the Executive Director of the northern-Nevada-based Healthy Communities Coalition, where she engages and builds upon the strengths of everyone in her community, from all walks of life, to make their region thrive. A passionate and effective community-builder, Christy believes in extreme inclusion – what she calls "collaborative mosaic-community" – because everyone is needed to make our communities flourish.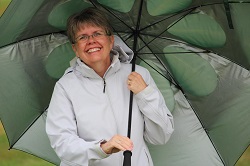 Rhonda Lorch is the co-owner and lead consultant of Lorch and Associates, supporting the leaders of not-for-profit organizations in and around Winnipeg. Lorch and Associates offers trainings, coaching and facilitated planning services that assist executive directors, senior manager and board directors to focus on mission while enhancing organizational effectiveness. The firm has built its successful practice upon the belief that missions are best achieved when leaders proceed from a core set of values – building trust, instilling hope, and demonstrating compassion and generosity.