Anymore, the world can feel like there is no hope. Climate. War. Pandemic. Violence against anyone perceived to be "different" (depending on who is defining "different…"). The list goes on and on. And on. And on…
That feeling as if we are drowning in what is wrong can stop us from doing anything at all to help, feeling like it's futile. What's the point?
The point is simple:
We humans are wired to find strength in helping someone else. The more we are able to find a moment to help, with no expectation of reward, the more we are building our own reserves to fight another day. Not to mention the importance of helping others find their own strength.
We hope the following quotes are encouraging reminders when life feels overwhelming. Because it isn't just the big things that change the world, but the small things as well – the million daily incidents that  have the power to eventually become a big thing.
Right now, we all need an extra dose of kindness from our fellow humans. And that starts with you.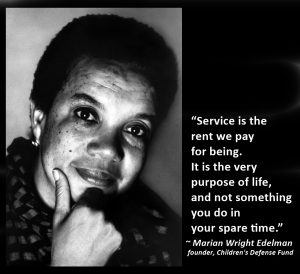 Marian Wright Edelman founded the Children's Defense Fund. A lifelong advocate for folks who are disadvantaged, she has been an influence for leaders such as Martin Luther King Jr. and Hillary Clinton.
"Service is the rent we pay for being.
It is the very purpose of life,
and not something you do in your spare time."
~ Marian Wright Edelman
Riffs on her quote have been attributed to legends such as Muhammad Ali and Shirley Chisholm.
"Service is the rent we pay for the privilege of living on this earth."
~ Shirley Chisholm
"Service to others is the rent you pay for your room here on earth."
~ Muhammad Ali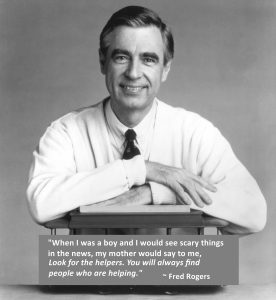 And then there is the quote we hear so often from Fred Rogers…
"When I was a boy and I would see scary things in the news, my mother would say to me, 'Look for the helpers. You will always find people who are helping.'"
Fred Rogers was the force behind Mister Rogers' Neighborhood, a show with influence far beyond its intended preschool audience. His show ran from 1968 to 2001 – quite a feat – and his influence has been felt on writers and producers of children's television shows ever since. Beyond the shows themselves, Fred Rogers's words, focusing us on our humanity, have served as a source of comfort during tragic events, even after his death.
Which leads us to ask about your favorite quotes about being of service to each other. Let us know, and we will add those to this list!