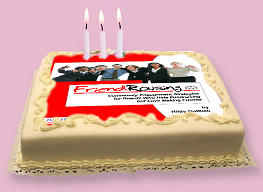 I just realized that this month is the 3rd anniversary of the publication of my book, FriendRaising. I feel like a mom, wondering how so many years could have passed since my baby was born!
To celebrate, I want to share a story of friendship and family and laughter. It has nothing and everything to do with the community benefit work we are all doing. (Just like of so much of life, no?)
It all started this weekend, when my brother sent a link to a video that he and his three boys made over the holiday break. The video is a hoot, and so our first "FriendRaising Birthday Gift" is a non-Rock-Out Rock Out! (Warning, if you are easily offended, the music soundtrack has an off-color word or two. You can turn the sound off and not miss a thing – except a great driving rock and roll beat.)
I know I'm biased, but I thought this was a hoot. After sharing it with some friends, my friend Mari Gewecke sent back a note that said, "Your brother must be a very fun dad."
And before I even could think a thought, the first response that came to my fingers was, "We grew up laughing."
Which brings me to a different part of the story. (Bear with me – it all weaves together in the end.)
Several weeks ago, my friend and colleague, Marc Pitman, had a rather heated exchange at his blog. For those who do not know Marc, he is one of the most joyful, enthusiastic people I know. He is just as excited about his fundraising work (about which he is amazingly wise) as he is about his family, and about having "planted and pastored" a church. Having Marc in my life is really and truly a treat.
Here is what Marc posted at his blog.
Our kids crack us up.
Here's how our grace went tonight.
9 year old son: Can I say grace?
My wife, knowing he was going to literally say the word "grace":
Only if you'll pray, not just say "grace."
Son: Ok, I'll pray a real prayer.
We all bow our heads solemnly.
Son: Help.
[Pause]
Me, leaning over toward him: Would you care to expand on that?
Our 6 year old daughter, not missing a beat: Help…everybody!
We all busted out laughing.
And laughter is really the best prayer, isn't it?
When I read that, I smiled and thought, "How wonderful that someone has such a joyful relationship with his God!"
So how could this generate an ugly exchange? Someone accused Marc's family of laughing at the expense of Jesus. (You can read the full exchange at Marc's blog.)

You can imagine Marc – a pastor himself – was not happy. And so, to share my support, I sent him this email:
Marc:
I don't feel comfortable posting this at your blog, because it is not my place to be in that argument. But I did want to share this story.
When I was growing up back in New York, we had an unusually close-knit neighborhood. Everyone knew everyone, we were all friends, kids hung out playing in the street. It was as if a huge family had decided to buy every house on the street, and they shared each other's living rooms and kitchens. Kids wandered from house to house as if they were all just our own houses.
Summers meant the doors and windows were always open, which meant, of course, that you could hear a lot of what went on inside those houses. We lived on a corner, so our family was actually projecting our own doings to TWO streets at once!
I am 51 years old and I moved to Arizona when I was 22, so you can do the math as to how many years it has been since my family was all together there. In the 20 years since my mom has moved to Arizona to be near me, she still talks almost monthly to those neighbors who are still alive.
Mrs. Stemple is one of those who calls every month. She lived directly across the street from our kitchen door, and every time she and my mom talk these days, Mrs. Stemple reminisces about what she remembers most joyfully about that time in the neighborhood: that every night at dinner time, all she would hear from our house was hysterical laughing. Every night.
All these many years later, that is the memory my neighbor has of us as a family, and she repeatedly shares that memory with my mom as they reminisce about those days.
Is that not the very nicest thing someone could say about how much love there was in my family? About how my parents raised us? About what it meant to honor the very best we humans have the potential to be with each other?
Your post reminded me of that, and it made me smile at how lucky your kids are to grow up in a home where laughter is cherished.
So keep laughing. Whatever you do, just keep laughing.
That is the story I wanted to share with you all, as we celebrate the third birthday of our bouncing baby FriendRaising book. As you head out to raise friends for your mission and for the vision of the future you are working to create, be guided by the the fact that everyone, everywhere, seeks joy and kindness.  We all wish to be free of suffering.
And whether we are appreciating a six-year-old saying her prayers or wrapping other family members in toilet paper, we all need to laugh.