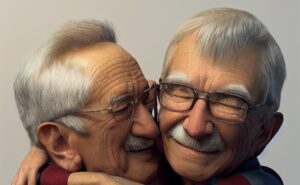 Listening as an Act of Love
In this week's Systems Change Newsletter…
Invitations & Announcements
Catalytic Thinking Exercise: Listening as an Act of Love
Resources to Further Your Practice
Invitations & Announcements:

Webinar: How to create the future
If you've wanted to put your toe in the water, to learn how Catalytic Thinking can make more of a difference in your social change work (and your life), have we got a treat for you! Creating the Future is teaming up with the Pennsylvania Association of Nonprofit Organizations (PANO) to deliver an awesome webinar series on Catalytic Thinking. The first one kicks off in just 2 weeks with 2 full hours of Q&A and conversation (plus videos to watch on your own and worksheets and so much more!) Here's what you'll get…
UPDATE: What's Next for Creating the Future?
Last year, Creating the Future asked our community (you!) to determine what's next for the work of our mission. Here's a summary of what we asked, what you told us, and importantly, the first steps we'll take to put those aspirations into action. Here's what we learned from you…
Catalytic Thinking Exercise: Listening as an Act of Love

On this Valentine's Day, we are thinking about the power of love in community work.
If love and compassion are crucial for successful systemic change (and we do believe that's true!), what exactly does that mean? What does it look like in practice?
The simplest way to answer that is to consider what love looks like in our personal relationships. What do you see and feel when love is guiding your interactions with your family, your friends, your kids?
We know it's not about the tokens we're sold on Valentine's day. Yes, cards and flowers and chocolates are a delightful reminder of love, but they are just that – reminders. What does the real thing look like in your day-to-day actions?
In our experience, showing love begins with listening.
Listening because we care

Listening because we want to understand what that person is going through

Listening for what is important to them, for what matters to them


Listening as a way of appreciating the beauty in their soul
No surprise, that same kind of listening is what it takes to work from a place of love in your community.
We experienced that big time at the end of last year, when we invited our community to decide what's next for the work of our mission. After spending many months in deep listening, the connection we have felt is beyond words. Since the end of last year, every conversation within our team has been infused with a deep sense of commitment to that connection. You can see more about that in this update.
What, then, does it mean to listen to your community from a place of love? And what would it take for you to point your feet in that direction?
Try This:
The first few questions in Catalytic Thinking are all about listening.
Who will be affected?

What would it take for them to lead the conversation?

What could we listen for in that conversation?

What do people aspire to?
These questions are 180° away from the standard organization-centric approach – the "we know what's best for you" paternalism that leads so much of what we commonly think of as community work.
As we think back to love of our family members, we know how stifling it is to have a parent or friend think they know what's best for us. If anything will stop an individual's ability to shine, it is having someone else decide what's best for them.
The same holds true in our communities.
If we want to see change, we need to listen from that place of love. That means listening not just to the "target audience" that marketing tells us to narrow our focus upon, but to everyone who might be affected by whatever decision we are about to make.
That kind of listening – Catalytic Listening - leads us to listen beyond people's problems. Working in social change, we are all so accustomed to seeing our fellow community members as problems to be fixed. Catalytic Listening is about listening instead to people's aspirations, their values, their strengths. It's about seeing the people in our communities as the overflowing satchels of potential that they really are, listening to their aspirations MORE THAN we listen for their problems.
That is why the entire Catalytic Thinking framework begins with Catalytic Listening. And it is what we wish for you this Valentine's Day and always.
Because there is no better connection we can feel than when we are listening to truly understand someone's desires, their aspirations, their dreams, and the power they may not realize they have to make those dreams come true.
Resources to Further Your Practice:
LEARN: The next webinar in our series will be all about Catalytic Listening. Let us know if you'd like to be notified when we launch that! Let us know here…
READ: This quick introduction to Catalytic Listening is a great place to start. Read it here…
READ: What it means to "hold space" for people – a piece so inspiring, we include it in our classes! Read it here…
Help Keep Our Programs Freely Available
Creating the Future's eJournal is free. And there are no financial barriers to our classes – tuition is whatever folks can afford. Because we never want money to stand in the way of people learning.
If you value our content and our approach, please donate here – and please consider becoming a monthly supporter of our work.
eJournal Archives:
If you're new to our eJournal, or just want to remind yourself of past practice exercises we've shared, check out our eJournal archives here.

Creating the Future's Mission
Teach people how to change the systems they find themselves in,
to create a future different from our past -
all by changing the questions they ask.