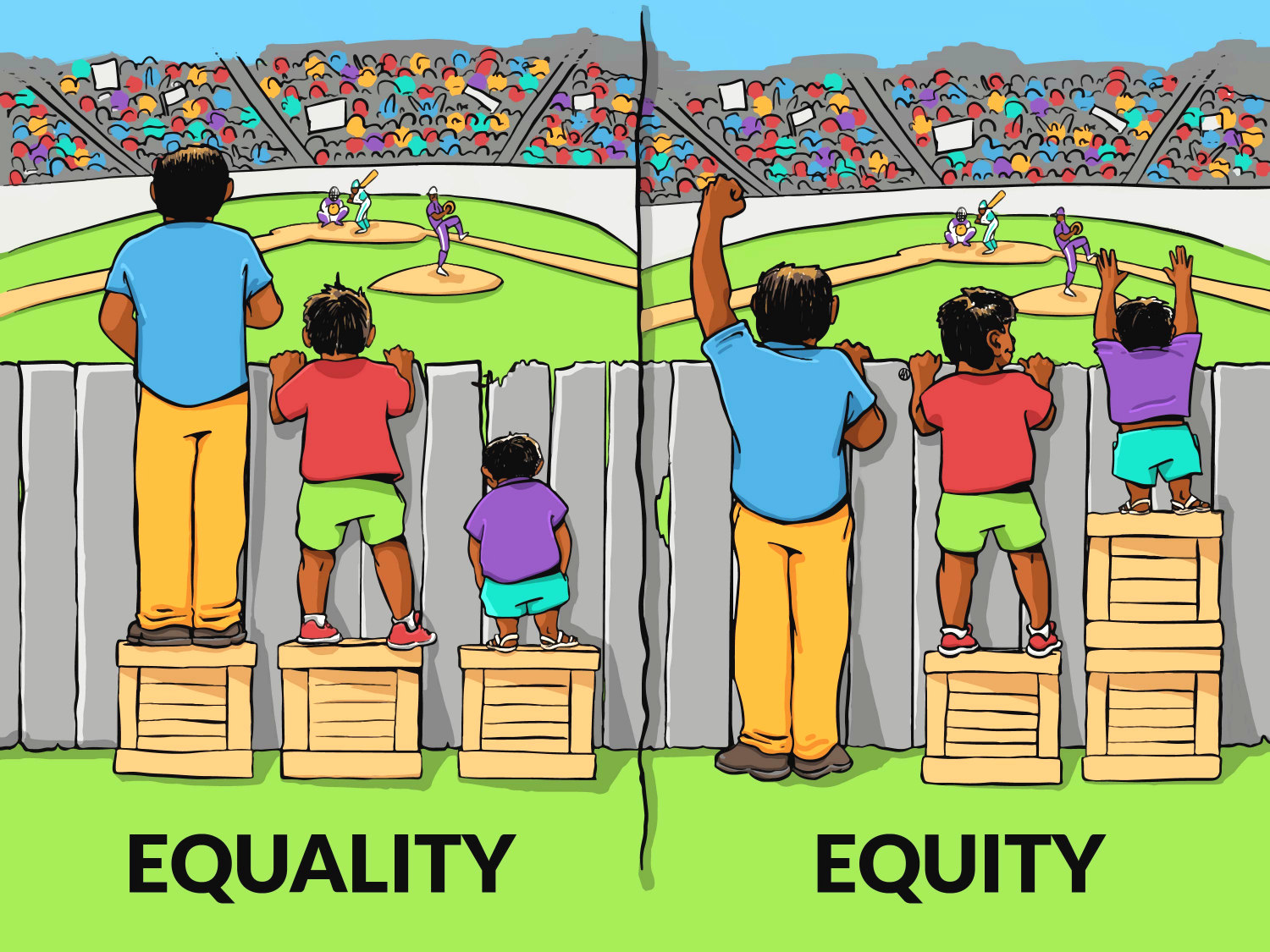 What would racial equity look like in our organization?
Next Monday, August 10, our board and community (that means you!) will begin the important discussion of racial equity at Creating the Future.
If our board's role is to ensure the organization is walking its talk, what is the talk we will walk when it comes to racial equity, and equity related to all marginalized populations?
We will be using Catalytic Thinking to guide that conversation. And we hope you will join us - to further the conversation, and to be inspired to use these questions to spark similar conversations in your own organization.
Try This
Catalytic Thinking encourages us to begin by thinking about what "good" would look like, and especially, "good" for whom?
As we think about bringing facilitators and trainers in to help guide our thinking about equity, what do we want that learning to make possible? And "possible" for whom?
What would "good" look like? Good for whom?
As you listen and contribute to our conversation next Monday, you'll likely hear some of the following questions as well - questions that can help your own team focus on that high potential outcome.
What would equity look like in our organization? What would it feel like?
If our organization were truly equitable, what would we hear people in the organization saying? What would we see them doing?
What might people in our community notice about our organization, that might lead them to point to us as an example of what "equitable" looks like?
What do equity and justice look like in each of our own lives and work?
These questions are a powerful start. They will be even more powerful as we ask for more detail about the people experiencing those feelings and sounds and sights. For example…
What might equity look like through the eyes of a person of color?
For transgender folx?
For someone with a physical disability?
What might equity look and feel like through the eyes of white people in the organization?
What would older people notice? What might younger people feel and experience?
If we hit a wall during this deeper conversation, that wall may sound like this: "We actually do not know what someone who is transgender might feel." Or "We really don't know what equity might look like through the eyes of people who have had very different life experience."
That moment of "we don't know" will be the indicator that it's time to find people to help. Luckily, there are people in almost every community whose work is to guide organizations to greater equity. Our discussions next Monday will help us define our goals when we retain that expertise.
The work of re-imagining systems is at the heart of Creating the Future's mission. Using Catalytic Thinking to accomplish that work lets us know that we will be aiming high, and creating a walkable path towards that goal.
As always, we will be sharing what we learn as we go. And we hope you will share your own learnings with us, so that we can all accomplish together what no one of us can accomplish on our own.
Resources to Support Your Practice
These resources will help you move towards greater equity in your work and your life.
JOIN IN: Next Monday, join our conversation in real time as our board and community reaches for what is possible around this important issue. You'll find more information here.
LEARN: What would equity look like in the field of fundraising? That is the question Community-Centric Fundraising is exploring, with awesome resources you can begin using right now. Note: This start-up group is doing such important work. When you get to their website, please consider donating to help them along.
FOLLOW: We are learning a ton and sharing what we learn from From Privilege to Progress, the team that evolved from the Philadelphia Starbucks incident 2 years ago. You can follow their immensely shareable content via the links at their site. And please consider supporting the important work they are doing.
Want to learn alongside other people who are also trying out Catalytic Thinking practices? Join our Catalytic Thinking in Action community on Facebook - a welcoming place where you can ask questions and learn from people like you who are experimenting with these practices. We look forward to seeing you there!
Help Keep Our Programs Freely Available
Most of the programs at Creating the Future are free or low cost, with liberal tuition assistance when they aren't.
If you find our programs of benefit, we hope you will consider contributing, to help keep these programs available to as many people as possible.   Donate here ...
eJournal Archives:
If you're new to our eJournal, or just want to remind yourself of past practice exercises we've shared, check out our eJournal archives here.

Creating the Future
is a collection of people around the world supporting each other in a grand experiment:
To determine how much more humane the world could be
if the systems that guide our work and our lives 
were rooted in questions that bring out the best in each of us.