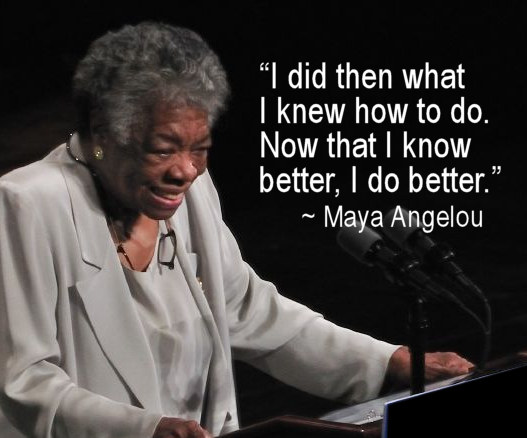 "We are what we repeatedly do. Excellence, then,
is not an act,
but a habit. "
   ~ Aristotle
First a Quick Update…

NEW!
If our eJournal inspires you, you will love our new notecards and posters! Great for gifts, great to keep for yourself.

100% of the proceeds benefit our programs at Creating the Future (including keeping this eJournal FREE!)
Click here to see them all.
And now, this week's main feature:
Being the Change You Want to See in YOURSELF
Do you ever wish you were kinder? More patient? More open-minded? More generous?
During these turbulent times, with anger mounting on all sides, many of us are seeking ways to be our best selves. The focus of this week's practice is therefore on creating the conditions for that best self to emerge.
With the holidays approaching, and all the time many of us will spend with our families, this is a great time for this practice. Because nothing triggers our worst selves like being with people who may just make us a little crazy!
And so, to prepare you for the holidays,
this week's Try This exercise ends with a 30-day challenge!
Try This
Think about the trait you wish you had more of. Do you want to be more compassionate? A better listener? More patient? Whatever it is, name it in the affirmative. (Because "less bad" is not the same as "good!")
Step 1:
In this first step, imagine someone who is exactly that. It could be someone you know, or someone you are imagining. Picturing that person, list the following:
What does a compassionate (or patient, or etc.) person DO?

How do you know they are compassionate? What are they DOING that lets you know they are compassionate?

If you were that person, what would others see you doing? What would they hear you saying?
If it's helpful, think about the situations where you wish you were evidencing your desired trait.
If you tend to get angry when you're driving, and you would like to be more gracious… What would a gracious person do in those driving situations?
List all those situations, and then list all the actions someone would take if they had the trait you are hoping to gain.
Step 2:
Now do the things on that list.
Every day, look at the lists from Step 2. Think about the situations you noted, where your reactions disappoint you.
Then simply do what that patient (or kind, or gracious, or etc.) person would do.
Why this works: Whether you are working on personal change or organizational change, the missing piece is often the step of defining the dominoes that will lead to that new reality. In the case of this exercise, what is missing is a) defining what "good" looks and feels like, and then b) as Aristotle advised, practicing that.
Catalytic Decision-making shows us the dominoes that will lead to that outcome. The result is that you will be creating the future you want to see by BEING that future in real time. That is why Catalytic Decision-making is such a powerful part of the Catalytic Thinking framework.
The 30-day challenge: 
We encourage you to give this a try for 30 days to see what happens. As you do, please share your journey with all of us at the Catalytic Thinking in Action Facebook group!  
Resources to Support Your Practice
These resources will help you build and strengthen your reflection practice:
WATCH: This 2 minute video compares the questions we normally ask to questions that create the future.
LEARN: This click-and-play class will walk you through the entire Catalytic Decision-making framework. (Check out the Quiz on that page!)
READ: Want another decision-making exercise? Try this one!
Want to learn alongside other people who are also trying out Catalytic Thinking practices? Join our Catalytic Thinking in Action community on Facebook - a welcoming place where you can ask questions and learn from people like you who are experimenting with these practices. We look forward to seeing you there!
Help Keep Our Programs Freely Available
Most of the programs at Creating the Future are free or low cost, with liberal tuition assistance when they aren't.
If you find our programs of benefit, we hope you will consider contributing, to help keep these programs available to as many people as possible.   Donate here ...
eJournal Archives:
If you're new to our eJournal, or just want to remind yourself of past practice exercises we've shared, check out our eJournal archives here.

Creating the Future
is a collection of people around the world supporting each other in a grand experiment:
To determine how much more humane the world could be
if the systems that guide our work and our lives 
were rooted in questions that bring out the best in each of us.