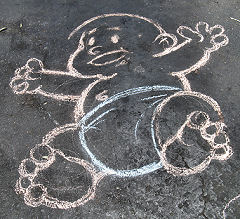 Having founded and retired from the world's first two Diaper Banks, it is rare for us to have 3 wonderful Diaper Bank things happen, all in one weekend. But being "proud parents," I must share!
First, Friday night, our first-born – the Diaper Bank of Southern Arizona – held its annual fundraiser. And while I still insist that the opportunity cost of fundraising events is rarely worth it, this one landed in their laps. A family friend of Executive Director Kirsten Grabo is an award-winning coach of competitive ballroom dancers. And he approached Kirsten about doing a Dancing with the Stars event…
So we spent Friday evening with 300 people, watching great dancing, and seeing old friends who care so much about the issues at the core of the Diaper Bank's being. Kirsten infused those issues into as much of the evening as possible, which made these 2 founders very proud.
Then Saturday morning, we headed up to Phoenix, where our 2nd-born – the Valley of the Sun Community Diaper Bank – held a Diaper Dump! Yes, they filled a dump truck with over 20,000 diapers! It's been a while since we unloaded a truck-load of diapers into a warehouse, and it felt GREAT!
All weekend, we got to talk with folks in both locations about the issues of poverty and crisis.
About the fact that a mom who cannot afford disposable diapers to leave at daycare cannot leave her child and hence cannot work.
About the fact that incontinence is a leading cause of elder abuse.
And about all the other facts that surround the simple commodity of a diaper.
And we got to talk with the leaders of both organizations about what's next:
How do we define our "community?"
How do we turn "media attention" into "engagement" into "action"?
How do we move beyond diapers, and begin creating an equitable and compassionate place to live?
How do we talk about poverty without having people turn off?
How can we provide tools for other communities to learn from, to build their own diaper banks?
A weekend filled with such questions is a great weekend in our book!
Which leads to our 3rd wonderful Diaper experience this weekend. First, a story.
Years ago, at Tucson's Diaper Extravaganza, a woman approached Bobby Rich, the radio DJ who has committed his soul to this effort from the beginning. Handing Bobby several packages of diapers, Barb shared her story.
Single mom. Son born so premature he had to be resuscitated. Mom quits her job to care for him. Relies on assistance programs for support.
Doing community work, sometimes we all get jaded to these stories. Except in this case, Barb asked where the diapers were coming from. And she showed up, years later, to give them back.
"You saved my son," she told us. "Now I want to help you."
Since that time, Barb speaks at events, hauls diapers, and has her now teenaged children volunteer.
But this past Friday night, Barb had a different announcement for the crowd at Dancing with Our Stars:
I recently moved to Flagstaff. And I am now working with the Food Bank there to build a Diaper Bank in Flagstaff.
Dimitri and I are always excited to hear about the birth of another Diaper Bank. And we are even more excited when those Diaper Banks use the collaborative, engaged model we used to build both Diaper Banks here in Arizona.
But to know that this Diaper Bank will be started by someone who received diapers herself – and that that is why she is doing this – well, it makes the two of us happier than anything we could hear.
So that's our story. It was a GREAT weekend, and a great example of what is possible.
If you are considering starting a Diaper Bank, there is a web of mentors to help you, as the network of diaper banks around the country keeps growing. The Tucson Diaper Bank's website has initial how-to information, as well as a list of Diaper Banks we know of around the country.
Photo credit: Dimitri
(Baby artwork drawn in chalk in parking lot at the Diaper Dump!)