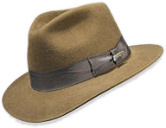 Last week, something life-changing happened for 10 people who did not expect it. A group of consultants from across the U.S. and Canada gathered for 4 intense days, to develop the Consultants' Curriculum for the Community-Driven Institute.
I will try to describe our time together, knowing that instead I might simply say, "Magic happened."
We worked nonstop from 8:30 every morning till dinner time, and then relaxed over amazing food and wine and stories and laughing. Then by 8:30am, we were back at it. We kept up that 12-hour-day pace for 4 days. On the last night, we celebrated with an evening stroll through the Arizona Sonora Desert Museum, under the watchful eyes of Saturn and the desert moon.
Each day, the group watched as I taught processes that have become so much a part of my being that I no longer can describe how I do them. The group then broke down every portion of every process. They asked what I was thinking, dissecting how one thought had led to the next. They explained and described and analyzed what was really happening to achieve the consistent results we have seen from this work.
They made it teachable.
But that was just part of it. In that 4 days, we shared stories, we laughed, we cried, we hugged. There was a profound sense of joy in the room, and a profound lack of ego. We realized we were giving birth, with all the pains and celebrations that entails. And that happened, each in our own ways, for all of us.
My brain is exhausted and liberated all at once.
In the coming weeks and months, I will share here what we developed and learned. For now, I will simply share some of what we watched on You Tube – both for our edification and for our distraction.
• Bruce Lipton on the biology of community.
• Eddie Izzard as Darth Vader at the Death Star Canteen (warning – there is a word or 2 of foul language here)
• An animation about how DNA is formed.

• (As an aside, in a conversation unrelated to DNA, Nick graphed the mathematical cosine of the vision behind the civil rights movement.)
• And of course, Indiana Jones taking his famous leap of faith, first showing the dots and then connecting them, so others could follow as he moved forward.
After 4 intense days, we have a plan. We know what the curriculum will be.
So stay tuned. We are in for one heck of a ride as we create the future of the sector that will create the future of our world.
(If you want to be notified when the Community-Driven Consulting Program is up and running, just follow this link.)
My undying gratitude to Rick Carter, Bonnie Koenig, Michael Kumer, Tracey McConnell, Bob Moore, Elizabeth Sadlon and Tracey Sisson – and of course to Dimitri Petropolis and Nick Perona, my partners in crime. Your combined wisdom and tenderness and patience and openness was a gift I cannot begin to describe. I am humbled and honored to have each and every one of you in my life.
(Post update:  You  can find the book list we generated in this incredible four days at the link.)
Photo Credit: Cactus & Moon photo is from the incredible work being done by Greg & Mary Beth Dimijian to raise environmental awareness – see their stuff here