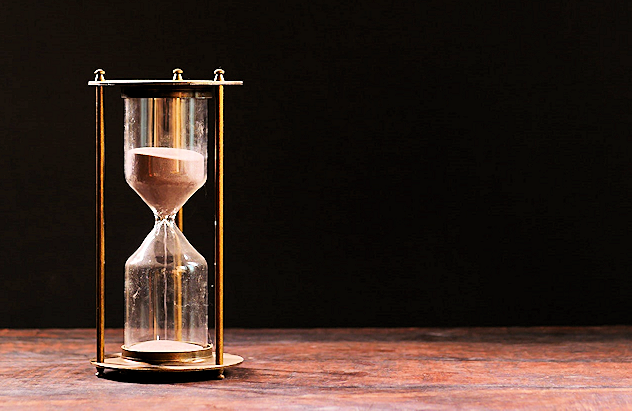 The trouble is, you think you have time...
In this week's Systems Change Newsletter…
Invitations & Announcements
Catalytic Thinking Exercise: The trouble is, you think you have time...
Invitations & Announcements:
What would "mission accomplished" look like for Creating the Future's mission?
Next week, Creating the Future's Integrity Board will host perhaps the most important conversation a social change organization could have. Given the 10-year clock on our mission, what actions will help us accomplish all that you - our community - said was important to you by year-end 2026? And does that 10-year clock mean reassessing and continuing, or something more final? You'll find juicy insights about these questions in the rest of this newsletter, because we think this may be the most important question any organization can ask. To be part of the discussion about our own future, see more info at this link. We hope to see you there!
Catalytic Thinking Exercise:
The trouble is, you think you have time...

Deadlines. We all hate them, and yet we know what we are able to accomplish when we have a finite timeframe for doing so.
That is why we love that quote from Jack Kornfield:
"The trouble is, you think you have time."
Despite our collective understanding about the power of deadlines, the unspoken assumption built into the work of social change organizations is perpetuity. In fact, the term "organizational sustainability" is so built into our lexicon that we don't even question the appropriateness of the concept!
The trouble is, we think we've got time.
Well, next week, Creating the Future's Integrity Board will meet to question that assumption.
We know from our engagement efforts last year that our community finds great value in the work we do. So let's start by saying that that feels incredible, to know that what we are doing is making a real difference.
Given that Creating the Future has set a 10-year clock for our mission, though, what does that mean for how we approach the goals you all articulated?
That clock doesn't mean we will sunset after 10 years; it simply means that at that point, we will re-assess. Will it make sense to continue? And if so, to what end?
Revisiting our 10-year clock
Our 10-year stop date of December 31, 2026 is less than 4 years from now.
As we take slow time to consider next steps for implementing all that you – our community – told us you want our next steps to make possible for you, the reality of that 3.8 year deadline feels very present.
And it leads to a huge question:
 What would be different between now and 12/31/26
if we took that date as a true deadline?
Catalytic Thinking reminds us that where we aim – our thoughts - will define the actions that create our results. Rooted in The Pollyanna Principles, we know that "We accomplish what we hold ourselves accountable for."

If we assume our work will keep going forever, our decisions and actions will reflect those assumptions. On the other hand, if we assume we have a finite time frame for getting things done, that may lead to very different actions!
In what ways would that choice affect how we operate?
The day-to-day decisions we make?
The way we approach every aspect of our work?
Those issues are all part of the experiment of having a 10-year horizon for our work.
And while this conversation will directly impact our work here at Creating the Future, it also raises interesting questions for ALL organizations working to create a more humane, healthy, equitable world.
Try This
Jack Kornfield's words are a clear reminder of the power of a deadline.
Whether you work at a food bank, a crisis nursery, a literacy organization, an anti-racism group – or a foundation or capacity building organization that supports those efforts - consider the following questions for your own work. These might be a topic for a staff retreat or perhaps simply as part of your regular staff meeting or planning conversations.
What could having a fixed time horizon for your work make possible for the people in your community? How would that be different than what is made possible by having your mission extend in perpetuity?
What assumptions and beliefs might be challenged by setting a fixed time frame?
If you had a fixed time frame for accomplishing your mission, what approaches might your group take towards ensuring that mission was accomplished? Would the mission change? In what ways?
What would be different about the way your work is done? What creativity might you invoke? What parts of your work might you share with others doing similar work?
Having a deadline for your work doesn't mean you have to plan to sunset. But the conversation itself - entertaining the notion - can open up creative approaches that could lead to seeing your mission as something to be accomplished vs. simply "what you do."
We know that the conversation Creating the Future's team will be stepping into on March 13th will generate all sorts of creative options. We encourage you to join us or watch afterward, to get your creative juices flowing for your own work. And of course, we will be applying Catalytic Thinking to explore these issues, starting with this one:
What might each approach make possible for you, the people who benefit from our work?
You can find information to join that conversation at this link.
These big questions are at the heart of what social change groups are able to accomplish. And when it comes to breaking down BIG questions into manageable chunks, nothing beats Catalytic Thinking.
Help Keep Our Programs Freely Available
Creating the Future's eJournal is free. And there are no financial barriers to our classes – tuition is whatever folks can afford. Because we never want money to stand in the way of people learning.
If you value our content and our approach, please donate here – and please consider becoming a monthly supporter of our work.
eJournal Archives:
If you're new to our eJournal, or just want to remind yourself of past practice exercises we've shared, check out our eJournal archives here.

Creating the Future's Mission
Teach people how to change the systems they find themselves in,
to create a future different from our past -
all by changing the questions they ask.