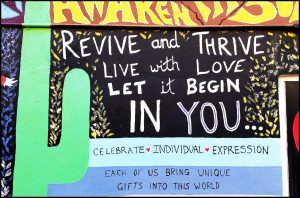 Why "Being Grateful" is Just the Beginning
In this week's Systems Change Newsletter…
Invitations & Announcements
Catalytic Thinking Exercise: Active Gratitude: Moving beyond "Feeling Grateful"

Resources to Further Your Practice
Story of the Week:  Catalytic Thinking in ACTION
Invitations & Announcements:

UPCOMING CATALYTIC THINKING CONVERSATIONS:
We are so looking forward to this conversation! Hildy will be presenting the next step in Creating the Future's work, and our community members will consider those steps through the lens of our new "integrity" focus. Is the program walking the talk of our values? Was it designed with Catalytic Thinking at the core? Will it be executed with those questions as the guiding light?
The discussion will happen on Zoom on Monday, June 14th. Choose how you want to join in…
Active Gratitude: Moving beyond "Feeling Grateful"
In this journal series, we are focusing on gratitude, service, and responsibility - three factors that make Catalytic Thinking so powerful.
In our last eJournal, we focused on noting the people and things for which we are grateful. That noticing is a huge first step, but it is just that – a first step. To turn "feeling grateful" into a true force for change requires putting gratitude into action.
Here is why active gratitude is important:
Simply put, it's not about you. It's about that other person, the one you are grateful for. It is about giving them the opportunity to receive the gift of your gratitude.
We all know the familiar voice that creeps into our lives – the one that whispers, "Who am I kidding? I'm just one person. I work my buns off, but am I really making a difference?..."
And then, out of nowhere, someone reaches out to say, "You changed my life." It could have been a conversation you don't even remember having, a class you taught, an intervention you were part of.
None of us hears those messages enough.
Here at Creating the Future, we have each encountered people who tell us, "Your work is making a huge difference in my life." And until that moment, we had no idea.
This week, let's remember what it feels like to RECEIVE gratitude. And let's move beyond just feeling and noting that gratitude personally – let's activate the superpower of actively practicing gratitude.
Try this
Putting gratitude into action can take many forms.
Gratitude Practice #1:
We've talked in past newsletters about the power of picking up the phone and making that call, even if you just leave a message.
"Hi, Marcella – I'm just calling to let you know what a difference you made in my life…"
"Hi, Tomas – I'm just calling to say thank you for donating every month. You have no idea what a difference that's making…"
"Hi, Auntie - I'm just calling to thank you. I wouldn't be the person I am without you…"
Making these calls is a gift to the person you are calling. Imagine picking up your voice mail and receiving such a message!
However this is also a gift for you, as you will hear in that person's voice what it is to RECEIVE gratitude. In our experience, that feeling is addictive, making us want to reach out and call the next person, and the one after that.
Gratitude Practice #2:
That first practice is great for those who are still alive and well. In the world of social change, however, we know that we stand on the shoulders of those who have gone before us. What can we do to honor the people who are no longer here? What would it take to show gratitude to them?
It could be a pioneer in your field of study. It could be a leader who, 100 years ago, worked on the issues you are working on. It could be your great-great-grandmother, who fled oppression 200 years ago.
Read their books. Then share what you learned, giving credit and expressing your gratitude. More than just sharing a link on social media, talk about why that book made a difference for you. Truly honor that author.
Listen to their speeches. And again, share them broadly.
Learn who THEIR mentors were. Read THEM. Listen to THEIR speeches.
There is great power in honoring the lineage of those who have come before us, who have made our work today possible. Abolitionists, suffragists, environmental warriors, labor organizers. Great thinkers, great teachers. Knowing we have a whole team behind us in this day-to-day work of systems change, we can feel them cheering us on when we need it. Reading about the struggles they endured to create change, we can commiserate, knowing we are not alone in our own struggles.
Infinite gratitude for all things past. There is power in feeling that we are not alone. And there is power in telling the world that we are part of a long lineage of advocates for change.
Gratitude Practice #3:
The last practice combines #1 and #2. And that is to find the heirs of those who have made a difference in our lives – the folks who remain after your mentor is long gone.
Call them, or send a letter (a real one, with a stamp. You know how you love to get real letters? So does everyone else!).
Imagine letting that person's loved ones know, "I am so grateful to your mom for making this possible for me." Imagine what gifts you will be providing for their day!
The reason infinite gratitude is so powerful is because gratitude truly can be infinite. Following the chain of everyone and everything for which you are grateful, you can honor them in so many ways. And each time you do so, it not only feels good for you, it is a gift for the people to whom you are grateful. That is why gratitude is deeply embedded into the Catalytic Thinking framework.
---
Resources to Support Your Practice:
---
Catalytic Thinking Story of the Week:

This week's story is from Angie Eikenberry, professor of nonprofit management at the University of Nebraska Omaha – and a Creating the Future board member.
This semester, Angie used Catalytic Thinking to redesign her graduate level fundraising class. She then incorporated Catalytic Thinking as content for her students to learn, to further their own work. This is what one of her students shared in their mid-semester reflections.
When I used Catalytic Thinking to avoid focusing on hurdles, I was surprised by how my ideas flowed very freely. Similarly, I was shocked at how enjoyable and fun it was to let my imagination run free. There was an energy that came with imagining possibilities and it seems to feed on itself and carry my ideas. I entered the assignment somewhat skeptical of the process, but I do see now that Catalytic Thinking is very freeing. Once you have exciting ideas, you can set about making those a reality. The hurdles, restrictions, and lack of resources you may face will inevitably make themselves known in attempts to execute these imaginative ideas, so there is no point in allowing imaginary versions of those obstacles to influence the process of imagining great things.
Got a Catalytic Thinking story to share with our readers? Let us know here!
Want to learn alongside other people who are also trying out Catalytic Thinking practices? Join our Catalytic Thinking in Action community on Facebook - a welcoming place where you can ask questions and learn from people like you who are experimenting with these practices. We look forward to seeing you there!
Help Keep Our Programs Freely Available
Most of the programs at Creating the Future are free or low cost, with liberal tuition assistance when they aren't.
If you find our programs of benefit, we hope you will consider contributing, to help keep these programs available to as many people as possible.   Donate here ...
eJournal Archives:
If you're new to our eJournal, or just want to remind yourself of past practice exercises we've shared, check out our eJournal archives here.

Creating the Future's Mission
Teach people how to change the systems they find themselves in,
to create a future different from our past -
all by changing the questions they ask.