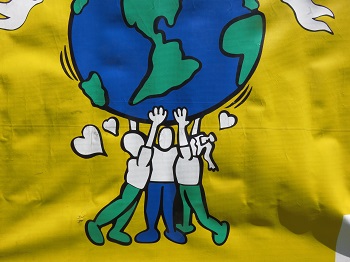 Before we dive in, a quick announcement:
Creating the Future's next board / community meeting is Monday, November 9 at 1pm Eastern time. The discussion will include determining what an "Integrity-focused board" looks like in practice, and how that translates to board recruitment. (And yes, we are looking to recruit board members. Are you interested? Have your voice be part of this discussion!) Details are here.
How "Just one person" can make a big difference
During these tumultuous times, including a global pandemic, racial justice protests, and a contentious U.S. election with ramifications for the whole world... it is easy to slip into the despair of being "just one person." Beyond voting or donating, beyond protesting in the streets, beyond writing letters to legislators (who often make clear in their responses that our letters will not sway them) – what can we do?
The issues are so big. Climate change. Racism and all forms of otherism. Voter suppression in a country that has stood as a model of democracy for centuries. So many of us feel like no matter what we do, it's not enough. We want to feel that we are making a real difference in people's lives, that our contribution to the cause is meaningful. And while the US election is grabbing the headlines these days, that desire to take meaningful action is a global sentiment, felt by people all over the planet.
In a talk this past weekend as part of Upaya Zen Center's election series, law professor and mindfulness teacher Rhonda Magee asked a question that can lead us to that meaningful contribution:
What do you love about democracy?
Through the lens of Catalytic Listening, the question of what we love about democracy leads us beyond our fears and problems and worries. "What do you love..." leads us towards our values and strengths and aspirations – the superpowers we all have to build upon, to create what is possible.
Try this:
List everything you love about democracy. Make it personal. These are your values, your aspirations. They are also your strengths, the things upon which you can build.
Strength builds upon strength. Focusing on problems and weaknesses actually keeps us reacting and struggling. What you love about democracy is the opposite of that – that aspiration becomes a deeply personal, values-driven strength upon which you can build.
So make that list of what you love about democracy. Your answers will begin leading you to meaningful actions you can take as "just one person." 
Is it the ability to gather with others who want what you want?
Then gather. Gather in online conversations, in the streets. Invite others to gather. Become a convener – someone who invites others in. Use Catalytic Thinking to ensure your gatherings are rooted in compassion, mindful action, and possibility.
Is it freedom of speech - the ability to speak your mind?
Then use your voice. Write letters to the editor, to your church council, to your friends. Look for opportunities to speak – your local city council meeting, your place of worship. Use Catalytic Thinking to ensure your speech is rooted in compassion, mindful action, and possibility.
Is it the ability to question your government?
Then start asking questions (our favorite around here!). Instead of ranting on social media, ask powerful questions. Questions that get people thinking (vs. questions that are really answers disguised as questions, such as "Don't you just hate when….?") Use Catalytic Thinking to ensure your speech is rooted in compassion, mindful action, and possibility.
Whatever it is you love about democracy, build your actions upon that strength. Let your actions model the values you want to see in the world. Kindness, compassion, and empathy begin with us. So does democracy.
Those strengths, those values, those aspirations - they are your superpower! That is why Catalytic Listening is such a powerful force in the Catalytic Thinking framework.
NOTE: Collective Enoughness includes sharing our audience with causes that matter to the future of our world. This week, we are hoping you will donate to World Central Kitchen. World Central Kitchen provides food relief in response to disasters and emergencies of all kinds, from feeding people devastated by the eruption of the Fuego volcano in Guatemala, to feeding people waiting hours in line to vote. We are so grateful for the work they are doing, everywhere in the world, and we urge you to support them.
Resources to Support Your Practice
These resources will help you find inspiration and strength, to step into your power to create the future of our world as "just one person."
QUICK READ: This poem of possibility and power by Aurora Levins Morales has been inspiring us daily around here.
WATCH: This short video provides aha's about the brain science of what we listen for. Watch here
READ: We're reading Winning the Green New Deal – a roadmap, a history, a primer in building movements for change. (Note: We urge you to vote with your dollars and purchase this book through a local bookstore.) 
Want to learn alongside other people who are also trying out Catalytic Thinking practices? Join our Catalytic Thinking in Action community on Facebook - a welcoming place where you can ask questions and learn from people like you who are experimenting with these practices. We look forward to seeing you there!
Help Keep Our Programs Freely Available
Most of the programs at Creating the Future are free or low cost, with liberal tuition assistance when they aren't.
If you find our programs of benefit, we hope you will consider contributing, to help keep these programs available to as many people as possible.   Donate here ...
eJournal Archives:
If you're new to our eJournal, or just want to remind yourself of past practice exercises we've shared, check out our eJournal archives here.

Creating the Future
is a collection of people around the world supporting each other in a grand experiment:
To determine how much more humane the world could be
if the systems that guide our work and our lives 
were rooted in questions that bring out the best in each of us.