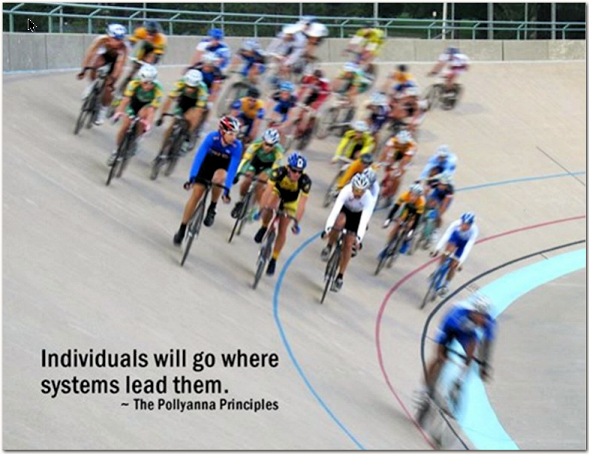 Imagine the possibilities if every system you encountered was aimed at bringing out the best in you!
Helping You Create Systems Change
Creating the Future's mission is to help you change the systems you encounter every day, making those systems more humane, all via the questions you ask.
So many of the day-to-day systems we all encounter are rooted in suspicion and reactivity, from workplace systems to the criminal justice system, and so many in between.
Imagine what would be possible if those systems were helping people to be their best selves rather than expecting us to mess up?!
THAT is what happens when we refocus our questions towards what is possible and powerful. And THAT is what Catalytic Thinking is all about.
To provide examples you can apply to your own work, we are launching a new feature in our eJournal, sharing our own systems-change experiments with you.
If you find a topic interesting, please let us know. Whether you want to follow along quietly, or dive in to create new systems right alongside us, our mission is that YOU be better at changing the systems YOU encounter in your own life and work.
Here is what you'll find in this inaugural edition:
Catalytic Thinking: A new book is almost done (Will you help us finish it?)
Boards, Governance, Bylaws and Organizational Design: Does it have to be the way it is?
Social Change Overhaul: Changing what's not working, once and for all
Communications Strategy: Using Catalytic Thinking to create inclusive strategy
Catalytic Thinking Book!
The rough draft of a short book on Catalytic Thinking is ready for peer review. And who are our peers? YOU, of course!
Writing about a subject we are so familiar with, it is easy to skip over some things, and then go too deep on others. Would you help us ensure this short book is accessible to anyone who wants to learn about this practice?
Once the book is done, our plan is to blog it chapter by chapter, on several different platforms (LinkedIn, Medium, our blog, etc.), to share the contents as broadly as possible.
The Peer Review team will therefore be the only people to see the whole book right from the start. And that could be you!
The book will be approximately 60 pages when it's done – short and powerful. If you would like to help make this book the best it can be, please let us know! 
Boards, Governance, Bylaws and Organizational Design
Your board doesn't need to look the way it does. Your board isn't legally required to do much of the work it's doing. In fact, your board can be a force for actively accomplishing your mission!
For several years, our board has been exploring what it would take for boards to actually propel social missions forward. That question has driven a complete reworking of both Creating the Future's board as well as a redesign of the whole organization.
Some highlights to help you generate new thinking in this critical area:
All our board and strategy meetings will continue to be open for you to watch or participate. See more here
The board's focus will be integrity, ensuring the organization is walking its talk. See more here
AND, per our most recent meeting, our bylaws will hopefully fit on just one page! Listen to that discussion here
Social Change Systems Overhaul
If you have been frustrated in your efforts to create a more humane, healthy world, you are not alone. In our initial inquiry into the cause of that frustration, we have found that many of the systems intended to support social change are actually thwarting that change!
To further our exploration (and to help us decide what actions to take), we are asking for your insights and observations, from your own work to create change. To that end...
Communications Strategy via Catalytic Thinking
Communications strategy doesn't have to be about differentiating and competing. After all, if we're going to create systems change, none of us can accomplish that on our own.
Last fall, we developed a strategy for sharing what we are learning here at Creating the Future. With Catalytic Thinking at the heart of that plan, it is inclusive (vs. competitive), rooted in our values.
Our next step is to implement that plan, and we hope you will come push those boundaries with us!
Values-based, inclusive communications strategy: What is it? How does it work? See more here
Changing the Questions: We summarized the questions we asked during those sessions, AND the answers, for you to see the difference Catalytic Thinking makes. (You can also watch the actual meetings!) See it here 
Volunteer! The tasks to implement this plan range from a few minutes (posting to social media) to perhaps a day's project. Whether you want to learn, to share your skills, or to stretch your thinking, let us know what intrigues you, and welcome aboard! Let us know
* * *
That it for this edition. Next time, an update on the systems change that is resulting from our demonstration project with the Nevada Department of Education. Stay tuned!
Do you like the cycling image up above?
You can own it! See it here
Want to learn alongside other people who are also trying out Catalytic Thinking practices? Join our Catalytic Thinking in Action community on Facebook - a welcoming place where you can ask questions and learn from people like you who are experimenting with these practices. We look forward to seeing you there!
Help Keep Our Programs Freely Available
Most of the programs at Creating the Future are free or low cost, with liberal tuition assistance when they aren't.
If you find our programs of benefit, we hope you will consider contributing, to help keep these programs available to as many people as possible.   Donate here ...
eJournal Archives:
If you're new to our eJournal, or just want to remind yourself of past practice exercises we've shared, check out our eJournal archives here.

Creating the Future
is a collection of people around the world supporting each other in a grand experiment:
To determine how much more humane the world could be
if the systems that guide our work and our lives 
were rooted in questions that bring out the best in each of us.