- Choosing to Keep Your New Year's Resolutions
- January 01, 2018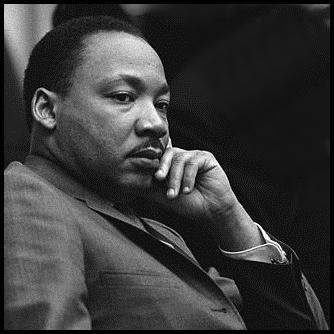 Either we all deserve
compassion
or none of us does.
Who deserves compassion?
Today is Martin Luther King Day in the U.S., a day to celebrate and honor a man beloved throughout the world.
The reason Dr. King is a global icon is not just about what he did, but the way in which he did it. While the treatment he received personally and the conditions he saw around him were reprehensible, Dr. King never allowed anger to rule his actions.
"Hate begets hate; violence begets violence; toughness begets a greater toughness. We must meet the forces of hate with the power of love."
        ~ Dr. Martin Luther King
Dr. King's actions to stop people from doing harm to others were not acts of anger, even when he was angry. We can be angry without letting that anger guide our actions.
Instead, his actions were guided by love for his fellow humans, even - especially - those whose own pain was causing them to inflict violence of words and actions upon others.
Acting from a place of compassion doesn't mean being complicit or giving in. It is instead about seeking to understand someone else's pain and fear as if it is your own. From there, you are able to intervene, to stop them from inflicting pain, as you realize they are inflicting it upon themselves as well.
"I am not going to allow anybody to pull me so low as to use the very methods that perpetuated evil throughout our civilization."
        ~ Dr. Martin Luther King
Through Dr. King's commitment to walking the talk of loving all people as God's children, he showed that compassion and love are our most supreme strength.
During these troubling times, it is therefore important that we celebrate not just the results of Dr. King's work, but the spirit behind what made those results possible. Because a precondition to a loving, compassionate world is that we act from a place of compassion and love.
Try this:
This week's practice is a series of questions we hope you will ponder not just today, but every day, to bring the power of Dr. King's commitment into your own life.
Are there people you believe deserve compassion more than others? If so, who gets to decide who deserves compassion? Would there be people who disagree with your assessment as to whether that person deserves compassion? Who decides which of you is right vs. wrong?

What's the worst that could happen if you DO seek to find compassion for / understand the pain of those you do not believe deserve that compassion? On the flip side, what's the worst that could happen if you act WITHOUT that understanding?

How does it harm you to act from anger, pain, fear? How does it serve you to act from compassion?
If we want to see a world that is ruled by love, kindness, compassion, and wisdom, then being that result in our own lives is the first step. It is also the last step. It is the only step. Because each of us is creating the future, every single day, we are each responsible for the future we create, even and especially for those with whom we fundamentally disagree.
The cause-and-effect of practicing compassion vs. anger and fear – that causality is at the heart of the Catalytic Thinking framework. If you'd like to learn more about putting that framework into action in your own life, Read more here…
Want to learn alongside other people who are also trying out Catalytic Thinking practices? Join our Catalytic Thinking in Action community on Facebook - a welcoming place where you can ask questions and learn from people like you who are experimenting with these practices. We look forward to seeing you there!
eJournal Archives:
If you're new to our eJournal, or just want to remind yourself of past practice exercises we've shared, check out our eJournal archives here.
Keeping Our Programs Freely Available
Most of the programs at Creating the Future are free or low cost, with liberal tuition assistance when they aren't.
If you find our programs of benefit, we hope you will consider contributing, to help keep these programs available to as many people as possible.   Donate here ...

Creating the Future
is a collection of people around the world supporting each other in a grand experiment:
To determine how much more humane the world could be
if the systems that guide our work and our lives 
were rooted in questions that bring out the best in each of us.