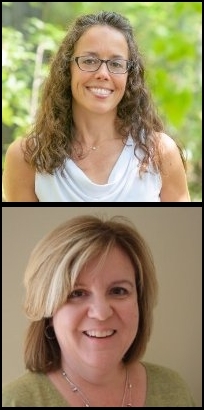 When we see change happening in communities, in organizations, in people's lives – what is supporting that change to happen? What are the factors that cause change?
In the April edition of Making Change (live in video, recorded as a podcast), I'll be joined by two people whose lives are dedicated to creating change in communities – Rebecca Hurd and Lisa Humenik.
Rebecca (top photo) is a change catalyst working to build community throughout her home state of Idaho. Rebecca's life is all about bringing people together to share their strengths towards a positive vision of what is possible in the small towns that dot that rural state.
Lisa (second photo) has over 2 decades working as an advocate for volunteer engagement, from running a volunteer center to facilitating the on-the-ground volunteer response to Hurricane Sandy.
This is guaranteed to be a lively hour of exploration, conversation and fun!
Bios
Rebecca Hurd is a change catalyst, community builder and storyteller. Prior to launching Hurd Consulting in 2010, Rebecca spent a blended and varied 15 years working in fundraising, communication, and community engagement roles with community benefit organizations, and in sales, marketing and communication functions with Fortune 100 technology companies. She creates the space for community benefit organizations and communities to aim for what is possible together.
Lisa Humenik has more than 22 years of experience in the field of nonprofit administration and volunteer program management.She is currently serving as President of the Sigma Kappa National Housing Corporation, a 501(c)(7) organization that engages 200+ volunteers across the country managing campus housing and investments for chapters on 35 campuses across the U.S.  She has served on numerous nonprofit boards and consults with nonprofit organizations in the areas of strategic and community impact planning, community engagement, program and resource development, and volunteer program administration.
LISTEN TO THE MEETING HERE
or Download the MP3
(To download to your hard drive, right-click {or click and hold on a Mac} on the link above and select "Save Target As".. or "Save Link as"… depending on your browser)
Twitter stream from the Community Engagement and Volunteerism Making Change Broadcast
(Please scroll to the bottom to begin)