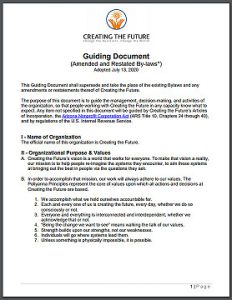 The purpose of Creating the Future's Guiding Document (formerly known as Bylaws) is to guide the management, decision-making, and activities of the organization, so that people working with Creating the Future in any capacity know what to expect. You will find that document linked here. 
The History and Context of our Guiding Document:
Creating the Future's board and community members spent several years designing an organizational structure that feels more aligned with accomplishing our mission. (Click on the Category Link for "Organizational Structure" to see the history of these discussions.)
Given that Creating the Future is a corporation, which requires that we have a board, we also worked to redesign the work of our board, to align with and reflect the intention of that organizational design. To that end, we have defined our board's work as "upholding the integrity of the organization, ensuring we are walking our talk and meeting the expectations of anyone who has expectations of us." You can see summaries of those discussions at this link.
Our Guiding Document is a description of how our organization makes its decisions and manages the activities the organization exists to support. We have chosen to use language other than "bylaws" because "bylaws" suggests that the document is law, rather than a guide for self-governance.
In fact, the only requirement for bylaws in the state where Creating the Future is incorporated – Arizona – is that an organization have bylaws. There is no mention of what those bylaws must say. Further, any item not specifically noted in the organization's bylaws defaults to state law (specifically the Arizona Nonprofit Corporation Act (ARS Title 10, Chapters 24 through 40). What that means in reality is that most bylaws merely restate the law! 
In our minds, our legal obligations are a baseline, not the goal. The goal for this document is therefore to help anyone working with Creating the Future to make decisions in a way that aligns with our vision and our values. That is what this document does. First, it states that we will absolutely adhere to the law. And that then, the document guides us to reach higher, leading the way to accomplishing our vision.
We hope this Guiding Document / bylaws inspires your board to define the expectations you want your organization to live into. And as with all things at Creating the Future, we hope you will share what you are learning along the way!